Start Your Fundraiser Today!
Yes, You'll Actually Enjoy Your Fundraiser!
You can earn 25% fundraising profits and people love to support local causes. Now, there's something to be happy about!
Let us help you to create a steady stream of income that will help to offset costs, fund your programs, and help to raise awareness and promote your brand. We've been doing this for awhile so we make it super-easy and simple to get going.
Getting started with our fundraising partnership program is easy, fun, and only takes a few minutes to set up, so you can start fundraising right away!
Your fundraising effectiveness will skyrocket by offering freshly roasted coffee designed just for you.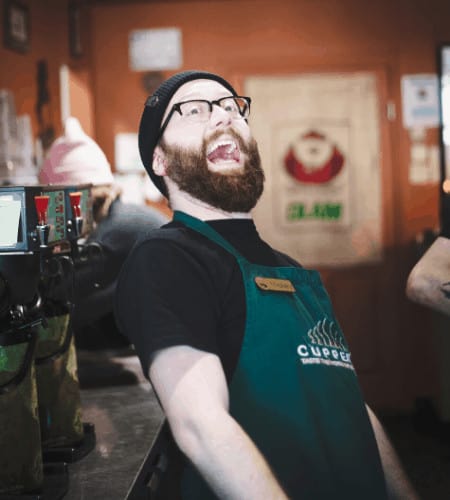 Want more info?
Call Mickey at 403-380-4555.
The most effective fundraising happens all year long
Freshly roasted coffee is a unique product in the world of fundraising, and we make the whole process easy for you.
Best of all, your fundraising doesn't have to be a single event!
Have you considered extending your fundraising efforts over the year?
Our partners have experienced huge success by using our freshly roasted coffee as an on-going, year-round fundraising product.
Cupper's helps schools, organizations, sports & athletic groups, clubs, non-profit, churches, and individual & group cause initiatives to reach their goals.
We can help you, too!
Contact us by phone or email!
We can tell you more about our program, answer questions, and set up a meeting to get you started!

Contact: Mickey at Cupper's Coffee & Tea
cuppersfundraising@gmail.com (403) 380-4555
Want to get our newsletter?
About once a week we send out a quick, lighthearted email letting you know what's new at Cupper's.
This is where you'll hear about special coffees or seasonal coffees only available for a limited time, new products that we're excited about, new drinks and monthly raffles, and all kinds of coffee and tea shenanigans. Include your birth month, and we'll send you a special birthday surprise every year to use in-store!
Fill out the form below and become a part of the Cupper's community!
After subscribing to our newsletter, please check your spam folder regularly. As soon as we're able, we'll send you an email confirming your subscription. If that email goes to spam or junk, your newsletters will also go to your spam folder. Thank you!