Here's Josh, finishing a roast of superb Sumatra Femenino BY EYE. It takes a master roaster to do this consistently every time. He can tell, just by looking at the beans, when to stop roasting to get the maximum flavour out of every bean. Each coffee roasts in a different way and at a different pace. The roasting process changes if the wind is blowing, and changes with ambient humidity. Every day is different! A little science will get you in the ball park, but it takes a trained eye to coax the fullest flavour from the coffee.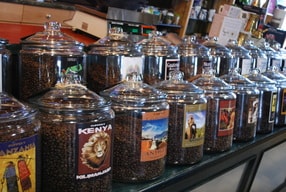 HOW FRESH is fresh?

​ We go to a lot of effort to source the best green coffee beans we can buy, so we make a big deal out of the fact that all of our coffees are
freshly roasted.
People are always struck by the amazing aroma when they first walk into the store. There's nothing like that freshly roasted coffee aroma. Did you know that over 90% of what you taste actually comes from what you smell? So if you love the smell of our coffee, you're going to go nuts for the taste 🙂
Cupper's has built our world-wide following by timing our roasts according to the turn-around of that particular coffee. Every coffee on our coffee bar is in that sweet spot: the best of fresh.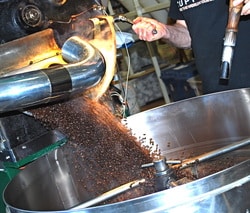 For keeping your coffee at it's flavourful best,
​we recommend
Airscape Canisters.