EVERY ONE
loves Muddy Mouse!
After our freshly roasted coffee, Muddy Mouse pottery mugs are the single most popular item at Cupper's. Seriously.
They're definitely THE most sought after non-coffee item. And who can blame anyone? Made locally in the Crowsnest Pass by the truly wonderful Mike O., each piece is a true work of art. There are no repeats, no duplication, and no exact copies. Instead, there is an incredible dedication to beauty, functionality and a love of colour & form.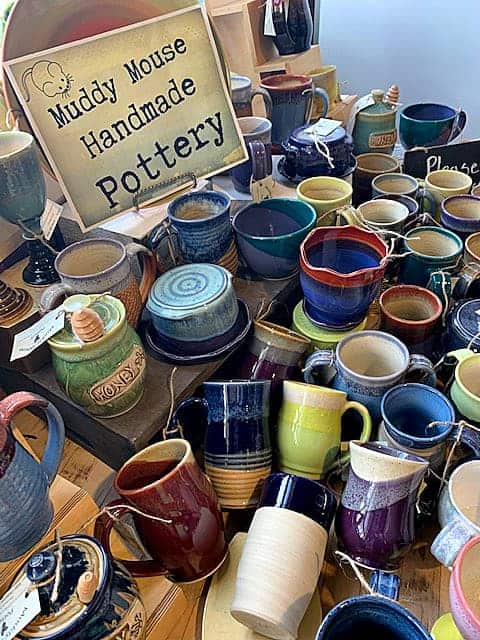 Every piece is one-of-a-kind… Which makes getting the perfect one the ultimate prize!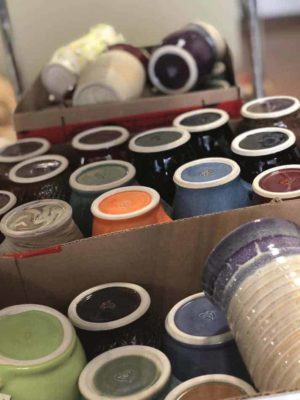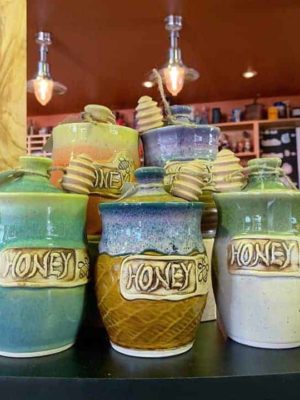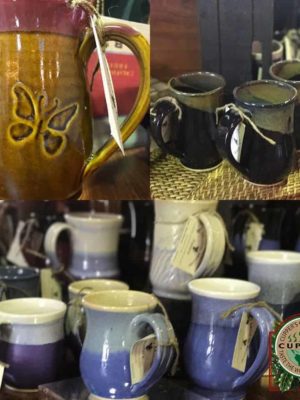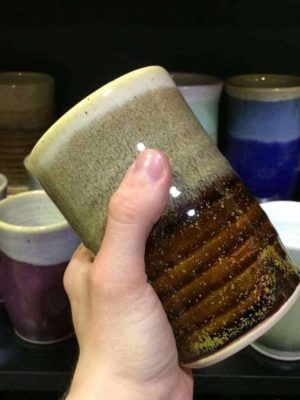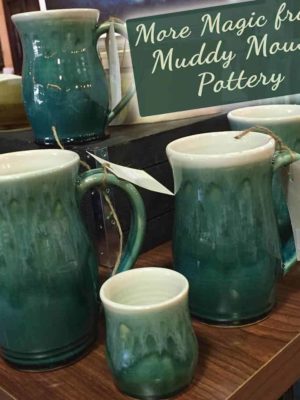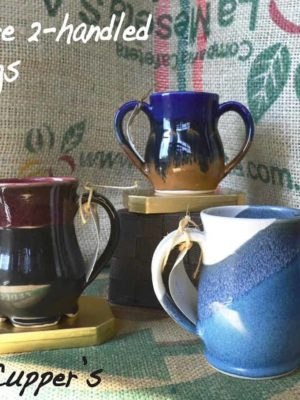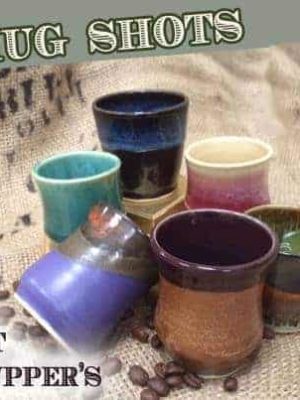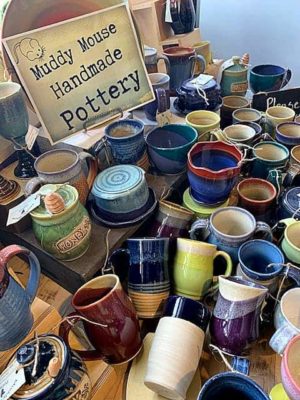 There's so many beautiful choices… how do I pick?
We have a whole range of Muddy Mouse items. There are handless mugs and regular sized single handle pottery mugs. Initially designed for a customer with Parkinson's Disease, his double-handled mugs are also loved by those with severe arthritis. He also brings in large latte bowls in both a shallow and a deeper style. For other table items, we always have honey pots and butter dishes and bowls. Often we have beautiful berry bowls, made so your freshly washed berries drain well and keep longer. More recently, Muddy Mouse has brought in teapots, garlic keepers, and garlic roasters. Occasionally, we'll have yarn bowls, with a special twist to them to keep your ball of wool nearby as you work!
One of our baristas will assist you on a virtual walk through of all our Muddy Mouse products!
There are lots of ways to connect: via Facetime, Skype, Zoom, WhatsApp, or Google Duo – your choice! Call us at Cupper's to book your 15 minute shopping appointment, at 403-380-4555.
We'll ring in your Muddy Mouse after you're done shopping. Then choose the easiest option for you: you can pick them up in the parking lot, we'll deliver them to your door (if you're in Lethbridge, Coaldale or Coalhurst), or we'll mail them to you!
Treat yourself to your own Muddy Mouse today!
Want to get our newsletter?
About once a week we send out a quick, lighthearted email letting you know what's new at Cupper's. We'll tell you about special or seasonal coffees, new products and drinks, monthly prize draws, and all kinds of sass and shenanigans.  
We'll send you a follow-up email asking your birthday so we can send you a special treat. Watch your spam folder in case it gets diverted!
Fill out the form below and become a part of the Cupper's community!
Our site admins (at Cupper's itself, not outsourced!) are the only people who have access to our newsletter list. This info will not be sold, exchanged, held hostage, spindled, folded, or replaced by an exact duplicate from another universe. We promise to only send you out our newsletter, an annual birthday surprise, and occasional special updates… for example, if we find a real, live unicorn to transport our coffee directly to you! (We would do that, you know.)  🙂