Roasting Coffee Is Our Passion!

Inclusivity: We have a commitment to inclusivity, and honour all of the individuals who shape our community. We stand against hate, and discrimination based on racism, sexism, homophobia, and transphobia. We proudly do so from the traditional territories of the Niitsitapi, Tsuu T'ina, Stoney Nakoda, and Metis peoples of southern Alberta.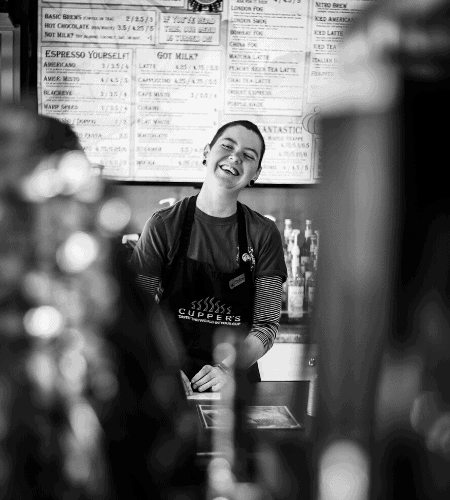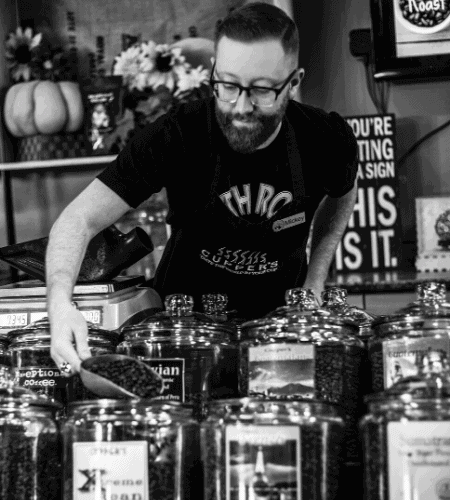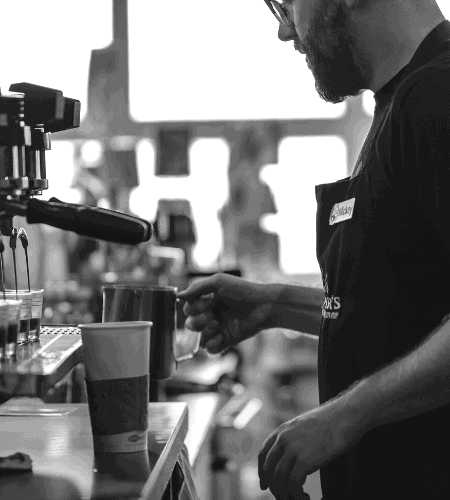 "Amazing customer service all the time! I buy my roasted coffee here all year long and today when my dad asked me to pick up a gift basket last minute with a budget, they went above and beyond. Cupper's, you're amazing! I will always come back."
"Very Helpful and knowledgeable staff. Questions about roasting processes were explained patiently and they really made it easy to find a great whole bean." T.F.
Who are we? It's pretty simple, really...
We're artisan coffee roasters that have been roasting fair trade, ethically sourced and organic coffees for more than 26 years. We import coffee from all over the world, and roast it to amazing standards.
Our customers (you!) are top priority with us. If you're happy, we're happy! We love to see you in our store, and we're always bringing in new, fun and interesting items we like to share with you.
Our coffee is always freshly roasted, and we have a full service coffee bar where you can get any coffee or tea beverage you can think of, as well as frappes and fruit smoothies. Even if it's not in season, we can make it for you – Anyone asking for peppermint in summer, or pumpkin spice in spring?
Or check out our gift baskets and mailable gift boxes. We can custom design and produce baskets in-house for any occasion, from 1 to MANY. We also create wedding and gift favours, small and easy to give!
We also have many wholesale customers, and we're proud to supply many restaurants, coffee bars and offices in southern Alberta and beyond with the coffee and supplies they need.
Our newest development is our fundraising partnership program, in which we help you in your efforts to raise funds for your organization.
As a side note, check out our BAD Coffee – It's our #1 best-seller, and is available as coffee beans, single serve coffee brew bags, or as cold nitro-brew in cans!
We make all kinds of coffee and tea drinks to go, and use our excellent selection of gourmet flavorings to make infinite and delicious variations on a theme.
All of our paper cups, lids, straws and stir sticks are fully compostable. Go green!
Want an alternate to regular dairy?
Try our almond, coconut, oat or soy milks. 
Want a 3-shot 16oz skim latte with a splash of vanilla?
We've got your back.
Want the best flat white this side of the outback?
We've got you covered.
Want a simple, straight-up black coffee, roasted and brewed to perfection?
Look no further.
Have questions? Want to comment? We'd love to hear from you.
Want to get our newsletter?
About once a week we send out a quick, lighthearted email letting you know what's new at Cupper's. We'll tell you about special or seasonal coffees, new products and drinks, monthly prize draws, and all kinds of sass and shenanigans.  
We'll send you a follow-up email asking your birth month so we can send you a special bonus. Watch your spam folder in case it gets diverted!
Fill out the form below and become a part of the Cupper's community!
Our site admins (at Cupper's itself, not outsourced!) are the only people who have access to our newsletter list. This info will not be sold, exchanged, held hostage, spindled, folded, or replaced by an exact duplicate from another universe. We promise to only send you out our newsletter, an annual birthday surprise, and occasional special updates… for example, if we find a real, live unicorn to transport our coffee directly to you! (We would do that, you know.)  🙂