Are you looking for a coffee that will satisfy your Nitro Cold Brew craving? You may not realize yet the love of the Aerocano. This drink is also known as a Steamed Iced Americano… seems odd? It's made popular by a reddit post and is becoming the internet's favourite iced coffee drink of 2022.
The Aerocano has become super popular due to how easy it is to make. All you need is a home espresso machine and you're set to build this drink. Keep reading to learn how to make your own at home!
Cook Time: 12 sec (literally!)
Total Time: 1 min, 12 sec
Servings: One 12 ounce serving
Equipment:
Ingredients:
2 oz. Espresso
Ice
5 oz. Cold water
Instructions:
Add water and ice to your steaming pitcher.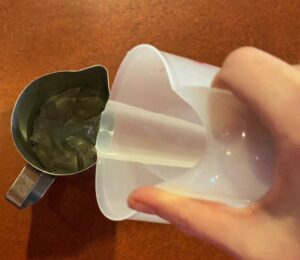 2. Pull two shots of espresso from your espresso machine.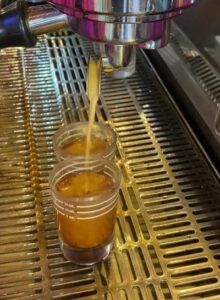 3. Add espresso shots to your ice and water in the steaming pitcher.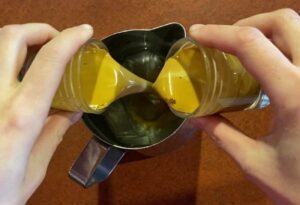 4. Aerate the espresso, water, and ice with the steam wand of your espresso machine for 12 seconds.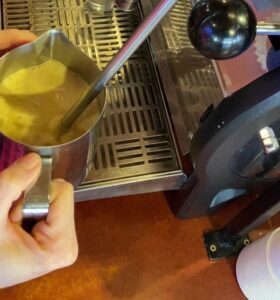 5. Pour the Aerocano over more ice.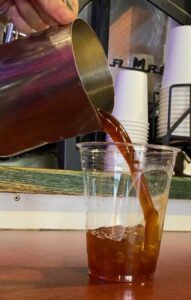 6. Enjoy and chill out on a warm deck in the sunshine!
Don't despair if you don't have an espresso machine to make an Aerocano. You can easily recreate this drink with an Aeropress and a Bodum Milk Frother. Give it a try!
Want to get our newsletter?
About once a week we send out a quick, lighthearted email letting you know what's new at Cupper's. We'll tell you about special or seasonal coffees, new products and drinks, monthly prize draws, and all kinds of sass and shenanigans.  
We'll send you a follow-up email asking your birthday so we can send you a special treat. Watch your spam folder in case it gets diverted!
Fill out the form below and become a part of the Cupper's community!
Our site admins (at Cupper's itself, not outsourced!) are the only people who have access to our newsletter list. This info will not be sold, exchanged, held hostage, spindled, folded, or replaced by an exact duplicate from another universe. We promise to only send you out our newsletter, an annual birthday surprise, and occasional special updates… for example, if we find a real, live unicorn to transport our coffee directly to you! (We would do that, you know.)  🙂