Mother's Day Gift Baskets - The Perfect Gift Idea For Mom
A beautiful Mother's Day Gift Basket – whose mom wouldn't love receiving one on Mother's Day?
Mother's Day is a joyous occasion for celebrating moms and all they do for us. A gift basket can be the perfect way to express your thanks. 
Gift ideas for Mom can be challenging so why not take the pressure off with a unique and beautiful gift?
At Cupper's, we offer high-quality Mother's Day gift baskets perfect for celebrating Mother's Day.
Whether she's a coffee fanatic, a chocolate lover, or a barista extraordinaire. 
We have the best products to make her day bright. 
Moms make the world go round and Mother's Day is the perfect time for showing them how special and loved they are.
Keep reading to learn more about our high quality products and customizable gift baskets!
Gift Baskets With High Quality Products
When choosing the perfect gift idea for mom, like a gift basket, you don't want just any generic basket you can find at the supermarket or a big brand box store.
Those gift baskets may be convenient, but they often lack products with high quality ingredients. 
And let's face it. We've all received crappy tasting gift baskets.
So disappointing! 
The best Mother's Day gift baskets should be beautiful of course.
And they should feature products that are tasty, high quality, and arranged to contain complementary flavors. 
 At Cupper's, we guarantee you are receiving products with the best ingredients and most enjoyable and delicious flavors. And, we're super proud of the fact that many of the items that go into our gift baskets are handcrafted and locally made!
Choose Your Perfect Gift Basket
Besides our Mother's Day Gift Baskets, we offer three main types of gift baskets for your mom, wife, grandma or any other deserving mom in your life:
Items to Include in Your Mother's Day Gift Basket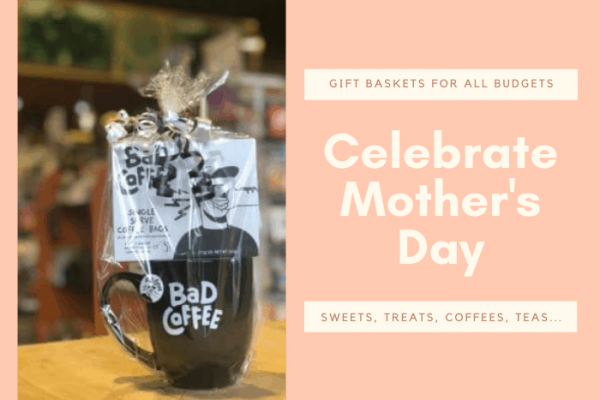 At Cupper's, our Basket Case team will work with you to make the ideal Mother's Day gift basket that fits your budget and desired theme. 
We offer many tasty options for inclusion in your gift baskets, including:
Coffee: Busy Moms love coffee. We are coffee roasting experts with over 26 years of roasting experience. With more than 60 different coffee products to choose from, we are sure to have the perfect roast for the coffee-loving Mom in your life. Check out our gourmet, freshly roasted coffees. (Pssst…while you're there, check out our best-selling BAD Coffee line of products

!)
Hot Chocolate: There's nothing quite as sweet as a steaming cup of hot chocolate on a cold winter's day. Fill your Mom's stash of hot chocolate this Mother's Day!
Sweet Treats: Does your Mom have a sweet tooth? We have chocolates of all kinds, biscotti and classic confections. Cupper's has you covered! Check out our many sweets and treats.
Gourmet Groceries: In need of something savory for the Mom in your life? Is she a fan of gourmet sauces? Then check out our wide selection of gourmet groceries!
Specific Items: When customizing a gift basket, we give you the option to include specific items such as our Muddy Mouse mugs or our syrups and milks. 
Dietary Restrictions: Does Mom have a food allergy or a dietary restriction? Not to worry! We offer a range of gluten-free, dairy-free, and nut-free products.
No matter what the Mom in your life likes, we have the products to satisfy her tastes!
We Make Our Mother's Day Gift Baskets With Thoughtfulness and Care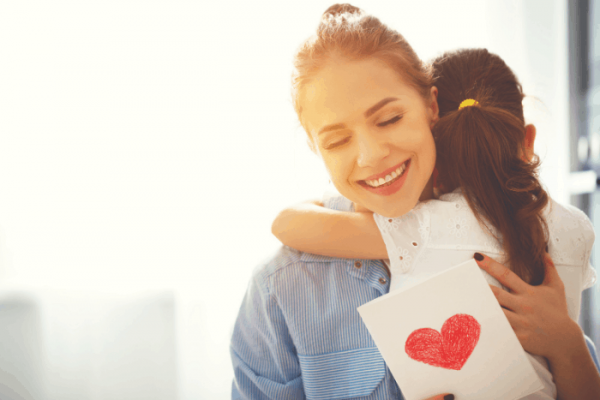 When designing and arranging our special Cupper's gift baskets, we put a lot of thought into making the basket the ideal present. 
Cupper's make many considerations when putting together each of our beautiful and unique gift baskets, ensuring that every basket we sell is just as special as the last.
 Here are some of the factors we consider when crafting our Mother's Day Gift Baskets:
Weather Conditions: Believe it or not, weather has a major impact on what types of foods and drinks are enjoyable during certain times. We keep this in mind, altering our basket contents to match environmental conditions. For instance, we may include less rich and heavy chocolate items when it is especially hot out. 
Who is Receiving the Basket: The baskets we create can be custom-made to fit each person's individual situation. For instance, a Mom with small children at home may want a basket she can share, while a Mom with adult children may want more interesting items with complex flavors.
Price Point: At Cupper's, we aim to provide gift baskets that can fit a wide range of budgets. You can add or eliminate gift items to the price point you are working with and how many items you would like to include.
Custom Inclusions: If you have specific items outside our product line that you would like to bring in to put in your Mother's Day basket, this is certainly a customization we are happy to accommodate. Please note that this service is less likely for online orders.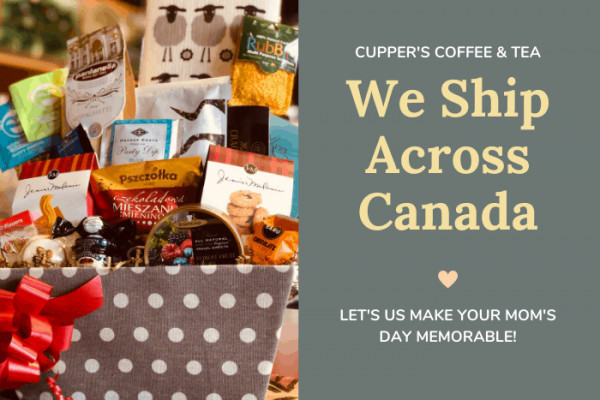 Cupper's strives to make our gift baskets not only a high-quality Mother's Day gift, but a convenient one as well.
 We offer deliveries across Canada. We offer FREE SHIPPING on gift basket orders of $150 or more.
You can easily order your mom's gift online, which is super easy. Or, you can order by phone, or simply stopped in at our store.
 If you are interested in customized orders, give us a call at 403-380-4555 to place your order today!
Please note that we do require 24 hours advance notice for deliveries. 
Mother's Day is the perfect occasion to splurge on a delectable Mother's Day gift basket. 
Our wide range of high-quality drink and food products here at Cupper's guarantees you the ability to make the ideal gift for the special Mom in your life!
Order online or give us a call at Cupper's today to place your order!