Working together and keeping safe in these COVID-19 times
If ever there were crazy times to be going through as a community, these are definitely them! But there's lots we can all do to help each other, stay caffeinated & happy, and healthy to boot.
Keep reading for some of the things we're doing at Cupper's Coffee & Tea to help keep you caffeinated in these uncertain times! This list is updated regularly and changes based on what's happening and when… so check back if you have questions.
How Cupper's Staff is keeping you safe
We're working together to sanitize everything! We have a strict sanitizing schedule that we're following hourly and daily. Water and soap, or water and bleach are our friends.
Service staff all wears washable, reusable, fashionable masks.  (Some of them were made by our wonderful customers who gave them to us!)
All staff washes and sanitizes their hands regularly.
We've broadened aisles and minimized duplicated areas in our store so you don't need to get too close to anyone.
We've added taped lines and areas on the floor to help maintain safe spacing.
Unfortunately, we've closed our public washroom for the foreseeable future.
What we're asking of you to keep us all safe
All customers must sanitize their hands when they enter and we encourage it before you leave too.
As per City of Lethbridge by-laws, we do ask all customers to wear a mask. If you don't want to wear one, no problem… we can definitely help you via our Parking Lot Pickup (keep reading for to learn more!).
We're managing the number of customers in the store at any one time. If there are too many folks here, we do ask customers to wait outside. Thank you!
Please don't pick up or handle products unless you are purchasing it.
Sadly, we can't reuse your old bags or refillable containers, nor can we refill coffee mugs or cups. Sorry!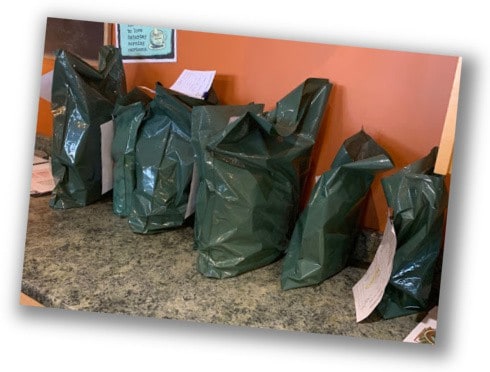 Place your order online, and then request parking lot pick-up when you complete your order.
Please give us 2 hours to ensure the order is ready before coming to pick it up.
When you arrive, call the store, give us your full name and where you're parked, and we'll bring your purchase right to your vehicle for you.
Parking lot pick-up is also available to our office coffee, wholesale & fundraising partners.
We can also make up customizable gift baskets for yourself or someone special, and these can be picked up via parking lot pickup.
Place your order online and then choose home delivery.
We deliver to Lethbridge, Coaldale, or Coalhurst.
We can also deliver to someone else for you… think fun surprise gift for someone not expecting it!
Delivery is $6.95.
Deliveries are also available to our office coffee, wholesale and fundraising partners.
Deliveries are completed the same business day (Monday to Friday) if received before 1:00 pm, or the next business day (Monday to Friday) if after 1:00 pm.
Having us mail out your order
Place your order online, and include your shipping address for anywhere in Canada.
We can also ship to someone else for you… think fun surprise gift for someone not expecting it!
Charges are based solely on Canada Post's pricing. We don't charge an additional "shipping and handling fee".
Shipments received before 1:00 pm are mailed that day.
We'll email you back with the tracking number for your parcel by the next business day after ordering.
Watch for the fun decorations on your shipment, and sometimes there's an extra treat inside for you, too!
Our coffees and teas are our primary shipments. Other products can nearly always be shipped, but to get info for those costs, please call Cupper's directly (403-380-4555) during our regular hours. We'll take your order, figure out the shipping costs, and confirm that for you before sending anything else.