There's something wonderful about a cup of hot tea on a rainy day. Or how about a glass of cold-brewed tea on a hot day?
Maybe
the true winner is a pot of tea shared with your best friend. No matter what, from the moment you set the kettle on to boil, your tea ritual has begun. We're here to help you find the best premium tea brands for the best tea.


A quality tea makes all the difference in your tea experience. You deserve to have the highest quality of luxury tea. Whether you are new to tea, trying to expand your collection, or shopping for a gift, we can help. Our guide to the world's best premium teas will insure you'll always have a special bonus in your tea cupboard.
So let the countdown begin!
Numi Organic Tea is a brother-and-sister-founded company. These siblings started their company in 1999 and named it Numi after the Arabic word for "citrus". They were both influenced by a dried lime tea that they drank as children in Iraq. Each box features a work of art that sister Reem Hassani
lovingly
paints. The images come from her brother Ahmed Rahim's photographs from their world travels.
Under their leadership, Numi seeks to ethically produce and source all their tea. They also ensure it's all organic, fair-trade, and fair labour tea. Numi also is a Founding B-Certified Corporation, which focuses on benefiting the environment, employees, and the community. Numi is a great company to support, and we're happy to have a large selection of Numi's premium tea brands at Cupper's.
Every Numi box has 18 bags of tea, each individually wrapped in a colourful sachet. The bags are of compostable, plastic-free mesh. Each bag is specially folded so there's lots of room for the tea to spread out for better steeping.
Our Favourite Numi Tea: Rooibos Chai
Are you looking for naturally caffeine-free alternative to a traditional black chai tea? Look no further than this spicy-sweet Numi Rooibos Chai Herbal Tea blend.
Metropolitan Luxury Tea is a Canadian company with 100% trackable packaged tea.
The
 Metz Luxury Teas
feature functional, ethically sourced tea blends.
Metz Teas win big with us based on their commitment to the environment and people. Their factory in Ontario is 100% solar powered, and produces 5x the energy they 
annually
 use. Their teabags are plant based material, and they only use compostable pouch packaging. 
In 2011, Metropolitan partnered with the UN Billion Tree program and the Ontario 50 Million Tree program to plant 15,000 trees.
Metz Teas also care about their producers. Metz Tea has been a member of the not-for-profit 
Ethical Tea Partnership
 (ETP) since 2003. The ETP focuses on the ethical treatment of tea workers, farmers, suppliers, and their families, which Metz Teas also supports. Whenever possible, the Metz premium tea brand buys from ETP approved estates and growers.
Metz Tea's stylish boxes are very attractive on the shelf, and you can't beat the flavours of their amazing teas. Their tea bags are pyramidal, so the contents have room to expand during the steep for the best flavour. Knowing Metz Teas make a difference for people and the environment makes their tea taste even better.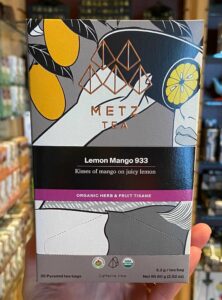 Our Favourite Metz Tea: Lemon Mango Herb & Fruit Tisane
The Metz Lemon Mango Tisane is awesome hot or cold. Try this juicy citrus and sweet mango tea iced on a warm day. This refreshing fruit blend will be the perfect addition to your summer plans.
Bisou Tea is Cupper's Coffee & Tea's newest line of tea. They have committed to sourcing high quality, ethically produced teas. They are also part of the Ethical Tea Partners network. Bisou's loose teas come packaged in beautiful tins that are works of art. The tea inside is in compostable gussets to keep the tea fresh. All shipping materials they use are either recycled or compostable.
This Toronto based company will make the perfect addition to your tea collection. All Bisou Tea's products are vegan and kosher as well. We love the quality and variety of their 100% certified organic, loose leaf teas. We're excited to offer this premium tea brand to our tea loving customers.
Our Favourite Bisou Tea: Oolong Fire Flower
The Bisou Oolong Fire Flower Tea is an Iron Goddess Oolong (sometimes called Ti Kuan Yin or Tie Guan Yin). It has a light floral-fruity taste with a sweet honey finish.
Wize Tea is an award winning, Vancouver based company. Two college friends started Wize Leaf while working on a final project. They saw coffee leaves as a missed opportunity for seasonal coffee growers. After finishing school, they teamed up with a Nicaraguan coffee producer. Together, the three created a perfect alternative to regular tea.
Wize Tea is actually made from coffee leaves and packaged in biodegradable bags. The tea has a subtle caffeine content on par with a regular green tea. The coffee producers harvest coffee leaves in the off-season. This creates year-round jobs in the seasonal coffee market. Coffee leaf tea doesn't contain the tannins that make traditional teas go bitter. Thus the bags can steep several times before they start to lose their flavour.
We love the rich, smooth, velvety mouth-feel in this premium tea brand. We found the longer the Wize Tea bags steep, the richer and silkier the tea became. They make awesome sun-teas and iced teas as well.
Our Favourite Wize Tea: Chocolate Dream
#1 Rishi Tea & Botanicals
And finally, we choose our number one premium tea brand: Rishi Tea & Botanicals! Rishi sells only the best, high-quality delicious teas. Rishi has a wide range of tea in many styles. We also use Rishi Teas on our drink bar in many of our tea drinks.
As a company, we love Rishi Tea's values. They commit to direct trade imports from their growers. Those imports
are based
on long-standing, personal relationships and ecological growing practices. Many of the farms are family-owned micro-lots and certified organic. Rishi also regularly challenges North American tea drinkers with unusual new flavours and botanicals.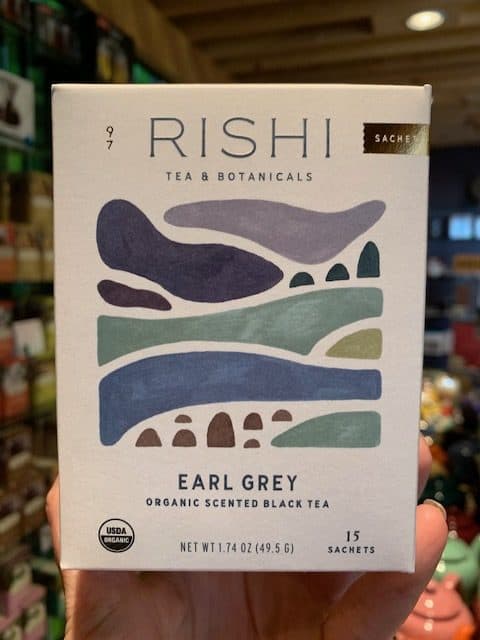 Our Favourite Rishi Tea: Rishi Earl Grey
Rishi Earl Grey is a true British classic. Robust, fruity Thai black tea blended with mellow, caramel sweet Yunnan Dian Hong tea. That blend is then infused with Italian bergamot, a type of sour orange. The result? Simply the best Earl Grey ever. Enjoy!
Tea has many different methods to prepare it, each developed by their own region. The most common western method is steeping tea in hot water, then removing the tea leaves once the desired taste has developed. The quality of the tea leaves is clearly very important. However the water quality and temperature and length of steeping also have a strong effect on the end result.
Water Quality and Temperature
Start with clean, cold, filtered water for the best flavour outcome. The ideal end water temperature for most teas is just below the boiling point. This state is described as "string of pearls", as there is a steady stream of small bubbles flowing in the water. 
Water that is too hot scalds the tea, and results in poor quality of flavours. Exact water temperature is dependent on the type of tea that you are steeping, so make sure to check in advance.
The steep time varies depending on both the type of tea used and the desired flavour from the tea.
Steep time can always adjust to suit your tastes. A shorter steep time will be more stimulating and light in flavour. Most of the caffeine extracts but with little tannins. A longer steep time creates a relaxing tea. It has more tannins extracted that give a
slightly
astringent feel. 
Additionally tea can also be over-steeped. This results in a taste that is
extremely
bitter, burnt or tart.