Going green isn't a buzzword phrase with us at Cupper's Coffee & Tea. It's not only our un-roasted coffee on the pallets in the back that's green! Even better, us working on being green helps you be greener too. Keep reading to see ALL the ways we're always trying to cut back and help out.
Let's count the ways we're keeping it green!
We recycle – a LOT.

This includes cardboard, glass & plastic bottles, tetra packs, milk jugs, and soda cans.

We shred and recycle

 all our paper and left-over labels. 

We recycle all our ink cartridges from our printers and photocopier.

Get a paper bag.

If you want a bag for all the goodies you've found, we have reusable, recycled kraft paper bags for you. No more plastic bags here!

Bring your own bag in. We love that too!

We give away our burlap coffee bags for re-use and re-purpose. Sack race, anyone? Or for use in your garden? Or to make an apron? Home decor? The possibilities seem endless!

Composting

– We compost all the chaff from our coffee roaster

. 
We re-use packaging materials

 we receive. Think packing paper, popcorn pellets, bubble wrap, bubble pack rolls, and cardboard boxes.

Our local vendors deliver

 products in large, reusable bags, totes or cardboard boxes. Those go back to them for the next delivery. (Thank you for being awesome as well as making awesome products!)

We re-use

 and recycle the pallets

 our green beans arrive on. It's amazing how high the wood and plastic pallets pile up. 

Re-use and re-fill your bag.

 Bring in your one pound coffee bags to re-use. As long as the zip is good, we can refill it for you. You get 40¢ off for that, too!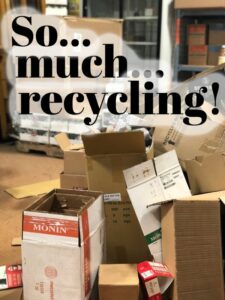 Converted to paper

– All our straws are paper. Or feel free to buy a bamboo or steel straw set for yourself!

Bring in your own mug.

We make your drink in your travel mug and you get a 25¢ discount. Bonus!

No more portion-packs.

We quit making individual office-coffee portion-packs. Our awesome wholesale customers now get 5-lb bags instead. It's such a huge reduction in packaging!

Tea that's not packaged in plastic.

Paperboard or metal, and compostable packaging is our norm. This includes the actual tea bag, too.

We're converting

all our old light bulbs into energy-efficient bulbs. (It's a lot of bulbs.) 

We minimize paper towels and by using a linen and carpet service. 
4. And our latest keeping it green initiative...
If you get our newsletter (and you should, it's fun!) you'll likely already have seen our latest efforts to keep green… it's our new retail coffee bags!
We liked our old bags. They worked well, held up to re-use, and kept coffee fresh. But the problem was in disposal. There is nowhere these could
be recycled
once they'd reached the end of their usage. So every time someone purchased a bag of coffee, it generated more landfill.
We had looked for YEARS for a good alternative, but there was always something missing. But in 2022 we finally found a bag that met all our very particular needs.
What was needed for 'green' retail bags?
First, the bag had to have the vent for your fresh roasted coffee. Then, it also needed to look awesome to match the coffee in them. As well, it had to hold up to re-use, some times a lot of re-use. Finally, and most important of all – it had to be recyclable. And not
just
"recyclable where facilities exist", but true and LOCALLY recyclable. We worked with the Lethbridge Waste & Recycling Department (they were great!) to make sure they could accept our new bags. And they can and do!
So if you live in Lethbridge or somewhere with blue bin pick-up, add it to the bin and you're set. If you recycle your plastics, the bags are a #2 plastic, which is easy to recycle.
And that's a great way to help you enjoy your coffee even more!