Is there such a thing as being TOO delicious?
Dangerously
delicious?
Ridiculously
delicious? If so, Cupper's Summer Berry Iced Tea is all those.
Organic and fair trade, our Summer Berry Tea is a guilt-free way to enjoy summer flavour. It's full of dried berries and good-for-you herbal teas. This means it's caffeine-free. With no caffeine, you know it's
 great for kids. In fact children love it, and it's a great way to reduce juice and soda intake during hot summer months.
Important Tip! Like all of Rishi's teas, Cupper's Summer Berry Iced Tea can
be steeped
over again. The ingredients are of such a high quality, they hold their flavour for more than one infusion. Don't just use it once… if you do, you're throwing money away. This recipe makes the perfect amount to share with a friend… if you want to!
Equipment:
Large Pitcher
Steeper or loose leaf tea bag
Ingredients:
Instructions:
Place loose leaf tea into a large tea bag and place in pitcher (You can also use a Grosche Tea Steeper like we did here). Cover with hot water and let steep for 4-5 minutes.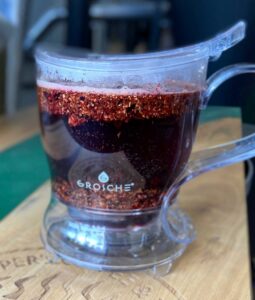 2. Fill a large pitcher with ice cubes.
3. Strain tea leaves from the hot tea. Pour hot tea over the ice in the pitcher, allowing the ice to melt.
4. If desired, add sugar to taste. We generally don't – but you make this how you like it to taste!
5. This is the easiest step of all… Relax and enjoy.
Cupper's Summer Berry Iced Tea is refreshing and tart, perfect for kids as it contains no sugar or caffeine. Try adding it to sparkling water for an extra special treat on a hot day. You can also freeze it to make ice cubes or deliciously tart popsicles. 
We used our Grosche Aberdeen Steeper and our For Life Flask Glass Iced Tea Jug for quick and easy iced tea steeping.
Learn more about brewing tea in our Beginner's Guide To Luxury Tea.