Cupper's is sponsoring a Dragon Boat Team!
What is a dragon boat festival?
This year's Dragon Boat Festival runs from Friday to Sunday, June 24 to 26th. Opening events start on Friday evening with a lion dance and blessing of the boats.

There's also special races and competitions held that evening, including the dragon boat tug-of-war

. And make sure to make the Rose Ceremony early Saturday afternoon… that's a heart-tugger!
There's a lot more to the Festival than
just
races though. Check out the market place of vendors, the many food trucks, and a beer garden. There's also a full stage with entertainment all day on Saturday and Sunday, and a children's area. Check out the race and entertainment schedules!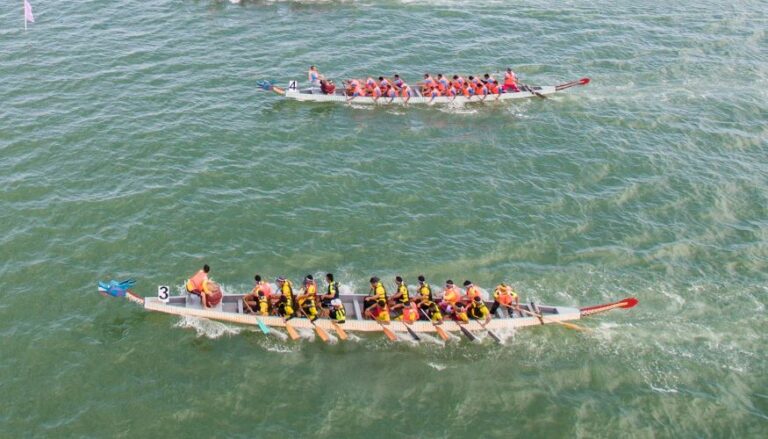 A dragon boat is a long, narrow boat that has benches for 20 paddlers who paddle in sync together. There is a drummer/coach on a raised seat at the front (bow) of the boat who helps set the pace and coach the paddlers. At the back of the boat (stern) is a steers, who uses a long steering oar to control the boat. During practices, the boats are headless and tailless. During actual festivals or displays, dragon boats have a head, tail, and number attached.
Who is 'Fuelled by Bad Coffee'?
"Fuelled by Bad Coffee" is a brand new Cupper's sponsored Ladies Dragon Boat Team.
Several of the team
are experienced
paddlers, while some only have a bit of experience. there are also several who are in a dragon boat for the very first time! They're all members of the Dragonboat Association of Southern Alberta (DASA).

Fuelled's coach, Romina Senneker, is an experienced national level paddler and has the team training hard on Henderson Lake.  Fuelled's drummer is Leanne Dumontier, and Cupper's own Nancy Graham is the Steers. Both Romina and Leanne are featured in the Global TV article about the return of the Festival this year. Watch for the Fuelled by Bad Coffee team in their snazzy purple jerseys, and be sure to cheer them on at the 2022 ATB Financial Lethbridge Rotary Dragon Boat Festival!