Great coffee drinks are easy when you follow our simple guide on how to use your espresso machine. This is a general guide for all espresso machines. As with any product, refer to your product manual for specific information.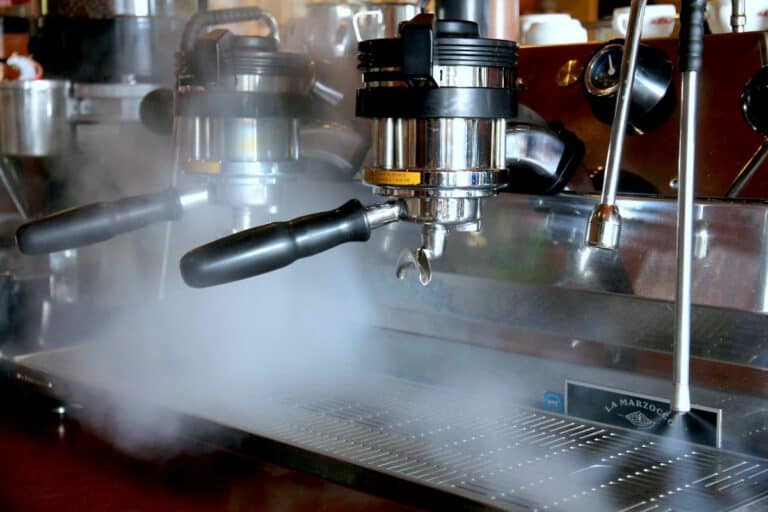 Welcome, coffee lovers! Get ready to step up your coffee game with our guide on using an espresso machine. Learning how to
properly
use your machine is worth your weight in coffee beans. We're talking about crafting delicious, barista-level coffee drinks right in your own kitchen.
From the basics of espresso to steaming milk,
our guide
has you covered. You'll learn the secrets of the right grind size, tamp pressure, and water temperature. Before you know it, you'll be a pro at whipping up silky smooth lattes and cappuccinos.
But wait, we have more for you! We're not giving you only a guide, we're also giving you a support system. Our free "Cupper's Care Program" is here to help you troubleshoot any issues. We want you to keep sipping great coffee at home. Your free e-book
How To Use An Espresso Machine
helps you enjoy crafting amazing drinks. So, let's not waste any more time – download your guide and join the home barista revolution!
Don't forget to share your drinks on social media with #CuppersAtHome. We love seeing all the amazing creations our customers make!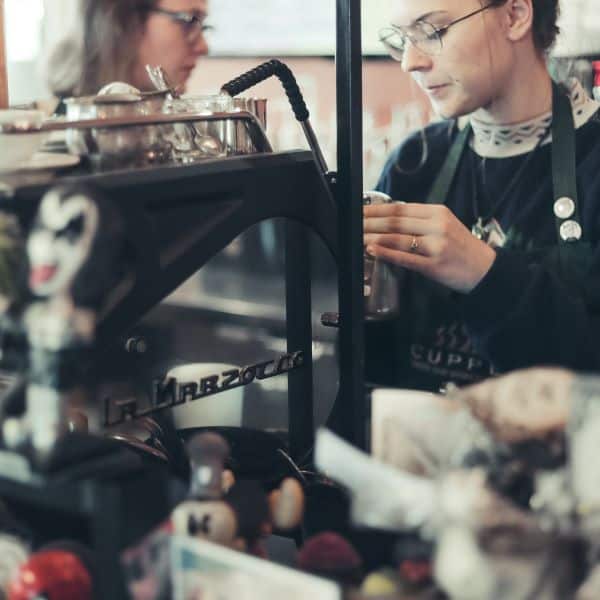 Is an Espresso Machine Worth It?
Short answer: YES!
Hold onto your coffee mugs, folks. We're about to blow your mind with the awesomeness that is the home espresso machine!
Picture this: You wake up in the morning, fall out of bed, and stumble into your kitchen. You're transported straight to your favourite coffee shop. But wait, it gets even better. With a home espresso machine, you're the barista, the boss, the ruler of your coffee universe. No more bland, overpriced coffee drinks from your local drive-through. With this bad boy in your kitchen, you're the master of all things coffee.
Yes, they appear expensive. But consider the cost of a visit every day to a drive-through coffee vendor. Even if you only buy one $6 drink every weekday… you've paid for your machine in a year. And you and your whole family and guests get to enjoy your espresso machine. Not just for one year, but for many. And at anytime, any day, any amount, you're the boss!
So, what are you waiting for?
Download your guide
and get brewing! Your taste buds (and your wallet!) will thank you.
Need to Know Espresso Terms
Get ready to sound like a pro, folks! It's time to dive into the world of espresso terminology. These terms are going to help you use an espresso machine to your fullest potential.
Understanding the lingo is key to taking your coffee game to the next level. That's why we've put together this quick, handy glossary of espresso terms. Now you'll be speaking the language of espresso in no time.
So, grab a coffee and get ready to expand your vocabulary. Your inner coffee geek will thank you.
Using an Espresso Machine - Terms
How to Get Your Free E-Book
Step 1: Provide Your E-mail Address
The first step to getting your hands on this amazing e-book is to enter your e-mail address. This signs you up for our weekly Cupper's newsletter, and then gives you access to the Guide. (We promise to NEVER, EVER sell or give out your email. That's a 100% guarantee!)
Step 2: Enjoy Cupper's Newsletter
Our newsletter is not your average boring junk-in-your-mailbox. It's a hilarious and informative read that will only hit your inbox once a week. So, say goodbye to spammy newsletters. Say hello to a new source of entertainment and coffee knowledge.
Step 3: Reap the Benefits
By signing up for the newsletter, you'll also receive a $10 coupon on your birthday. That's right, a birthday coupon for being a part of our coffee community! You can use it in-store during your birthday month on a pound of any of our regular coffees or a box of tea. Happy birthday to you!
Step 4: Download the Guide
Once you've signed up, download the e-book with one click. The guide covers everything you need to know about using an espresso machine. By the end of it, you'll be off and running as a home barista in no time!
It's time to start brewing! The guide gives you all the tools you need to make delicious espresso drinks right at home. Having trouble pulling consistent shots? We've got answers. Don't like how your milk is turning out when you steam it? Check out our possible solutions. What are you waiting for? Start your coffee journey today!
We can't wait for you to join our coffee community and learn the ins and outs of using an espresso machine. So, go ahead, get your copy of How to Use An Espresso Machine
 and get ready to elevate your coffee game!
We hope we have provided you with the confidence to chat about coffee with the pros. Understanding these terms is an essential step in mastering the art of espresso-making. You're now ready to take your coffee game to the next level.
Download our guide on using an espresso machine and become a pro barista in no time! Not only will you have access to your free e-book, you'll also receive our weekly newsletter. It's filled with hilarious and informative content. And as a bonus, on your birthday you'll receive a $10 coupon to treat yourself to something special. Don't miss out on this opportunity to join the ranks of elite home baristas. Start brewing your best coffee ever!
Frequently Asked Questions
Want to get our newsletter?
About once a week we send out a quick, lighthearted email letting you know what's new at Cupper's. We'll tell you about special or seasonal coffees, new products and drinks, monthly prize draws, and all kinds of sass and shenanigans.  
We'll send you a follow-up email asking your birthday so we can send you a special treat. Watch your spam folder in case it gets diverted!
Fill out the form below and become a part of the Cupper's community!
Our site admins (at Cupper's itself, not outsourced!) are the only people who have access to our newsletter list. This info will not be sold, exchanged, held hostage, spindled, folded, or replaced by an exact duplicate from another universe. We promise to only send you out our newsletter, an annual birthday surprise, and occasional special updates… for example, if we find a real, live unicorn to transport our coffee directly to you! (We would do that, you know.)  🙂