Rock your taste buds with this Bad Ass Moscow Mule recipe. Made with ginger beer, vodka, orange juice and Bad Coffee Nitro Cold Brew… This drink is perfect for a night in with friends or for impressing your punk rock buds at a party.
Ginger beer is what gives a Moscow Mule its signature fizzy and spicy taste. It's important to use a good quality ginger beer, as it can make or break the drink. The Bad Coffee Nitro Cold Brew is a great addition to this recipe. It gives the drink a unique coffee twist that makes it stand out from the crowd and has a perfect balance of flavours.
Servings: One 16 ounce serving
Equipment:
Copper Moscow Mule mug
Shot glass
Cutting board and knife
Ingredients:
Ice
1.5 oz. Vodka
1/2 Orange
1 can/bottle Ginger beer
1 can Bad Coffee Nitro Cold Brew
Slice of orange or a twist of orange peel for garnish (optional)
Instructions:
Fill your chilled copper Moscow Mule mug to 3/4 with ice.
Pour 1.5 oz. Vodka over the ice.
Squeeze the orange to juice, add to mug. 
Top half-way up with ginger beer. 
Shake, crack and hard-pour the Bad Coffee Nitro Cold Brew to fill mug.
Garnish with either a slice of orange, or a twist of orange peel.
Copper mugs are perfect for a traditional Moscow Mule. They help to keep the drink cold and add to the ambience. But don't let the lack of a copper mug stop you. Any heavier chilled glass over 16 oz. will work.
Vodka is the base of the Moscow Mule. It's important to use a good quality vodka to ensure that your drink tastes great. This may vary depending on how strong you like your drinks. Feel free to adjust the amount of vodka to your preference.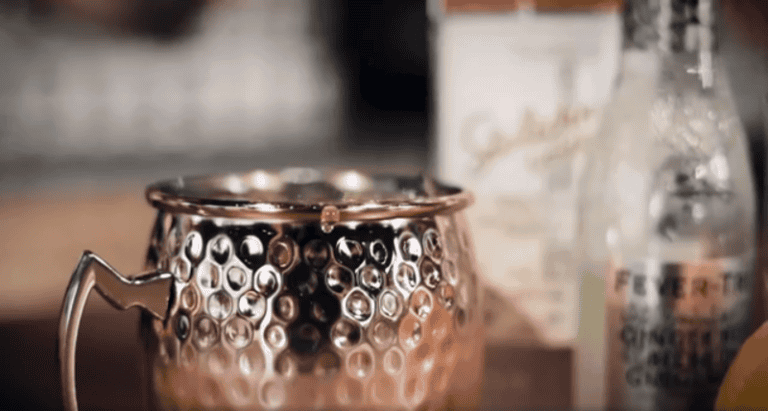 Want to get our newsletter?
About once a week we send out a quick, lighthearted email letting you know what's new at Cupper's. We'll tell you about special or seasonal coffees, new products and drinks, monthly prize draws, and all kinds of sass and shenanigans.  
We'll send you a follow-up email asking your birthday so we can send you a special treat. Watch your spam folder in case it gets diverted!
Fill out the form below and become a part of the Cupper's community!
Our site admins (at Cupper's itself, not outsourced!) are the only people who have access to our newsletter list. This info will not be sold, exchanged, held hostage, spindled, folded, or replaced by an exact duplicate from another universe. We promise to only send you out our newsletter, an annual birthday surprise, and occasional special updates… for example, if we find a real, live unicorn to transport our coffee directly to you! (We would do that, you know.)  :)