We've reviewed this year's best milk frothers for making DIY lattes at home. Which is best for you?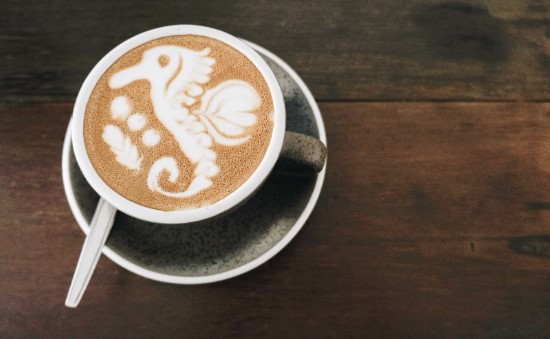 Many people start their days with a hot latte or cappuccino. Nothing beats a coffee crafted with expertise, but the cost of going to a café everyday adds up. Many of your favourite drinks start with frothed warm milk. This is where a milk frother at home is handy. We've tried out these popular milk frothers to give you a run down on their pros and cons. Grab one to make your own steamers, lattes, cappuccinos, caramel macchiatos, and more.
Once you have the perfect milk frother picked out, follow our easy steamed milk recipes. You'll be a barista in no time with our collection of DIY coffee recipes. Check out our
Easy DIY Chai Tea Latte Recipe,
or our World's Easiest Caramel Macchiato Recipe.
Looking to up your coffee game with some at-home espresso? Check out our Guide To Making Espresso At Home, or our
What is A Moka Pot
article.
As always, we recommend you start with amazing fresh roasted coffee beans. No matter what your coffee set-up at home is, if you put good coffee in, good coffee will come out. Share your pictures of your coffee creations with us at #CuppersAtHome.
5. Bodum Schiuma Electric Frother
Pros:
Low price – This is our most cost-effective frother.

Small – This teeny frother doesn't need a lot of space in a small kitchen.
Fast – Froths your milk in a few seconds.
Works with hot or cold milk.
Doesn't heat your milk – you have to pre-heat your milk before making a hot drink.

Has the least power compared to the other milk frothers on our list.
Uses batteries, so has an ongoing expense.
4. Bodum Latteo Milk Frother
Pros:
Made of glass – The jug of this frother is 100% borosilicate glass, designed for hot liquids.

Microwave safe – The jug is safe to use in the microwave to pre-heat your milk. *Don't over-fill the jug when microwaving. Keep the milk level below the max line.
Easy to use – Close to being failsafe every time, it's hard to do it wrong with this frother.
Works with hot or cold milk.
Cons:
Manual – You do all the work with this frother.

Doesn't heat your milk – You will have to heat your milk before hand if you are making a hot drink.
Not stove top safe – If you prefer heating your milk on a stove-top you'll have to do so in a separate pot.
Made of glass – We have this on both the pros and cons list. Glass is nice to have, but it is also more breakable.
3. Bialetti Tuttocrema Manual Milk Frother
Pros:
Easy to use – It's very hard to make bad milk with this frother.

Stove-top friendly – Useable on most electric and gas stove-tops.
Works with hot and cold milk.
Durable – The jug is metal so it stands up to a lot of usage.
Easy to clean – The inside of the jug has non-stick Teflon coating it so it's a breeze to clean.
Has two mesh screens rather than the usual one. This ensures beautiful foam every time.
Manual – You have to froth the milk by hand.

Not microwave friendly – If you want to heat your milk, you either have to do it in a separate container or on the stove.
Not induction stove friendly – The pot will not heat on an induction stove.
2. Bodum Bistro Electric Frother
Pros:
Easy to use – Pour in your milk, and press the start button. Milk heats, froths, and shuts off when it's done.

Durable – Made of high quality materials. There's no plastic or glass to break or stain.
Easy to clean – Teflon coated on the inside, so it wipes clean without milk sticking to it.
Electric – You don't need to do any work with this beautiful frother. It heats and froths without anything else needed.
Small – Takes up about as much counter space as a large coffee cup.
Affordable – The same price as some of our manual frothers.
Set Temperature – You can't scald or overheat your milk.
Only makes hot milk – You'll have to find another frother for your cold milk.

One temperature setting – You can't adjust the temperature if you want extra-heated milk.
One frother setting – You also can't adjust how frothed your milk is, the setting is pre-set and based on time.
1. Bellman CX-25S Milk Steamer
The Bellman CX-25S Milk Steamer is a true milk steamer.
It doesn't heat the milk
directly
, but through steam only. This creates steamed milk the same way a high-end espresso machine does.
Pros:
Has a steam wand – This milk frother works in the same way as one attached to the espresso machine at your favourite café.

Inexpensive for a true steamer. This milk frother doesn't cost thousands of dollars compared to an expresso machine.
Durable – Made from stainless steel, it will hold up to even the most hard-core steaming.
It's easy to clean. Blow out your steam wand to get rid of any excess milk and wipe your wand off with a clean cloth. Because the milk steams outside of the Bellman, you don't need to clean out milky surfaces.
Works on all stove-tops, including gas, electric and even induction stoves.
Expert level milk texturing – You will be able to completely customize your milk. Can make dry cappuccinos and no-foam lattes, and you can steam to your desired temperature.
Higher price – This is our highest priced milk frother on the list. Even so, it's much less expensive than a home espresso machine and makes comparable milk.

Only creates hot milk foam – You will need to find an alternative for cold foam.
Learning curve – If you are not a trained barista you will have to learn the finer techniques of milk steaming.
Our friendly employees at Cupper's will help you every step of the way. And you'll be making true barista-quality milk in no time!
Frequently Asked Questions
Why should I use a milk frother?
To get the amazing microfoam that you love in your lattes, you need to properly heat and froth your milk. Milk frothers make it easy to do at home without buying a full espresso machine.
Is a milk frother worth buying?
If you enjoy steamed milk drinks, a milk frother may actually save you money in the long term.
What can I do with my milk frother?
You can do so many different drinks with a milk frother! A short list includes:
Can you use a milk frother on cold milk?
Depending on the milk frother, yes! Many of the milk frothers that we carry are good for making cold foamed milk.
Is a milk steamer the same as a milk frother?
No. A milk steamer heats and froths milk with the power of steam, where a milk frother aerates milk like a whisk.
Can a milk frother make whip cream?
You could make whip cream with our Bodum Shiuma Electric Milk Frother, but it would take a long time. You'll get faster and better results with a whip cream canister or egg beaters.
Can a milk frother beat eggs?
You can beat eggs with our Bodum Shiuma Electric Milk Frother. We've also heard tales of people making scrambled eggs with an espresso steam wand… We don't recommend doing this unless you want to clean cooked egg out of your espresso machine!
Can a milk frother make latte art?
Some frothers can. For good latte art you need a good microfoam. Keep practicing your at-home latte art and share it with us on social media. #CuppersAtHome. We appreciate the effort it takes!
Can you use milk frothers for matcha?
Of course you can. Add your milk and matcha powder into your frother and go. Enjoy the fun of trying something new!