Sun's out, lounge chair is ready, and the sprinkler is running. The sun is just starting to warm up the cool air from the night, and the breeze is gentle. What better way to start your day than with a fresh roasted cup of Cupper's Summer Blend Coffee.
Ah, the delightful essence of summer. The radiant sun casting its warm glow upon lush green grass. What better way to start the scene than with a fresh roasted cup of Cupper's Summer Blend Coffee? It's the perfect recipe for a delightful staycation! We've crafted a medium-dark roast blend with aromas like a refreshing fruit salad for a picnic. You'll detect a touch of sweet melon and a whisper of black pepper. Its flavours feature notes of chocolate, vanilla, and a hint of earthy dark cola.
What's In Summer Blend Coffee?
Well… here's the thing. We won't tell you exactly which of our single sourced coffee is in our seasonal blends. That's something 
we feel
 pretty strong about. But we'll at least tell you the regions the coffees come from!
But we do make one promise to our customers. No matter what coffee, rest assured you're only getting quality, fresh roasted beans. In all our blends, we only use coffee that we also sell in our store and online.
It is common for south Asian coffees to have smooth, spicy notes. As a bonus, they're low acid coffees. Here's the difference: If you get the jitters, that's the caffeine in coffee. But if coffee upsets your stomach, that's the acid in the coffee. If that's the case, then these low acid coffees are your new best friend. Coffees grown in south Asia have a range of flavours from silky and earthy to rich and savory.
Each country in this region offers a coffee experience with complexity and nuance. Central American coffees present an exquisite range of flavours, from citrusy to nutty. It's no wonder that Central American coffees hold a special place in our hearts.
Coffee lovers rejoice! In South America, you'll find a variety of flavours that are sure to please. These regional coffees have a smooth and mellow taste. The coffees have a balanced flavour profile that is neither too strong nor too weak. If you prefer a cup with a touch of sweetness or a hint of nuttiness, these are the coffees you'll love. So sit back, relax, and savor the flavours of South American coffee, a true treat for your senses.
The Flavor Profile of Cupper's Summer Blend Coffee
Cupper's Summer Blend Coffee is a hotly awaited seasonal coffee every year. We have crafted a medium-dark roast blend that smells so good, it'll make you think of juicy summer fruit. Can you almost taste the sweet melon and catch a hint of black pepper? The flavors are out of this world! Think of layers of deliciousness, like a chocolate and vanilla dream with a touch of earthy dark cola. It's a fresh burst of summer cheer right in your mug.
To find out how we test our coffees and blends, read up about Cupping Coffee, the Ultimate Taste Guide. We used our Cupper's Coffee Flavour Wheel when deciding the flavour notes in our Summer Blend. Read up on the Flavour Wheel, and give it a try for yourself!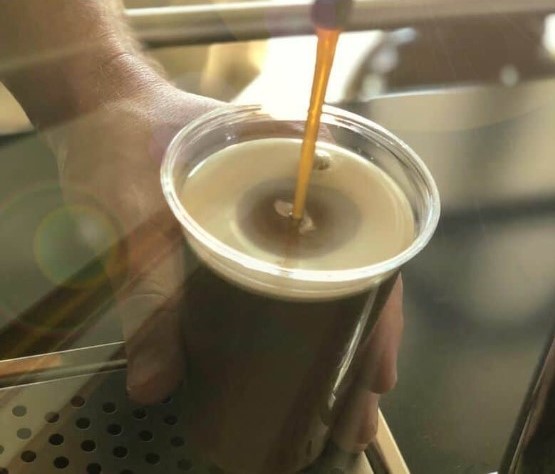 We blend this coffee with hot summer days in mind. It makes an amazing iced coffee or cold brew. The soft velvety texture lends itself well to a strong brew. That's when the rich chocolate flavors shine through.
But our Summer Blend has an extra bonus that works so well with it's flavours. Pour your tall glass tumbler of cold brewed Summer Blend. Add a scoop of your favourite vanilla ice cream… and voila! You have the best coffee ice cream float you'll ever taste.
For a different hot summer treat, try Summer Blend as an iced latte. Add a few ounces of this cold brew concentrate to a glass of cold oat milk. You can also add a shot of Monin Syrup to sweeten if you'd like.
Cupper's Summer Blend Coffee
is the ultimate coffee for your summer adventures. Cheers to a wild and delicious time! This is the perfect coffee to take along on a camping adventure, or sip on your deck with your feet up. Enjoy a bag of Summer Blend coffee before it's gone for another year!